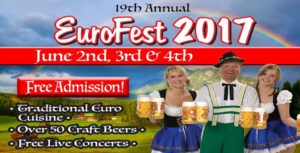 19th Annual Eurofest
For the 19th year we are proud to bring back the Sands EuroFest Weekend. As always we will have a great selection of your favorite European Foods, European style beer festival, Crafts, and free live music including the Young Dubliners at 7:00pm!
Slip on your Lederhosen or Dirndl and celebrate all things European at the 19th annual festival. The celebration is all about great European cuisine including grilled bratwurst, chorizo Basque sandwiches and Swedish meatballs with spaetzle. Of course, there will be a large selection of beers! 
FREE to the public to enjoy the live music and dancing! In addition, there are a multitude of craft fair booths and European cuisine and beers available for purchase.
When:
Fri, Jun 2
4:00pm - 10:00pm
Where:
Sands Regency
345 N. Arlington Ave
Reno, Nevada 89501