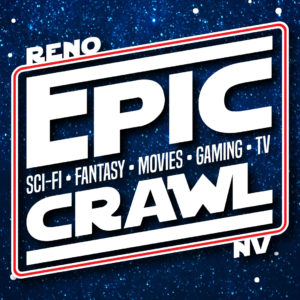 2017 Reno Epic Crawl
Go to www.crawlreno.com/event/epic for complete info, cup sales and hotel discounts!
GRAB YOUR FAVORITE COSTUME AND HAVE AN EPIC NIGHT!
FINALLY A CRAWL FOR ALL YOUR FAVORITE STUFF!
Whether you are a casual fan or a hard core cosplayer, one of the best thing about going to big conferences is putting on a costume- and we're about to make it even better!
The Epic Crawl is a massive costumed bar crawl where we encourage the entire multiverse of fans to show up and show off! It's like a conference, except instead of several days of trying to get an autograph from somebody from the Avengers, it's one night of legendary partying. If you haven't been to a bar crawl before, they're huge, city-wide costume parties with drink specials and entertainment you go from bar to bar to see, and nobody does it like Reno, NV!
Last year the Epic Crawl was, well, EPIC. We began with a massive lightsaber duel and ended it with an all night dance party. This is one evening that'll give you and your crew a month full of memories without costing a fortune!
Have you been working on that cardboard Iron Man costume for months? Wear it. Are you stoked that your girlfriend got you a Jedi robe? Wear it. Have a thing for dressing like Sailor Moon, BY ALL MEANS DO IT. Whether you are a die-hard Trekkie, you never miss an episode of Game of Thrones, you're spitting image of the 10th Doctor or you just want to get your girlfriends together and dress like sexy versions of the Mario Kart characters this is YOUR NIGHT! Sexy Ninja Turtles are also welcome.